Winter Tour
If you like to support the Conservation of the critically endangered Red-breasted Goose please join one of Branta-Tours birdwatching programmes or make a reservation with Branta Birding Lodge.
Bulgaria: overwintering Red-breasted Geese, White-headed Ducks
and other notable waterfowl and raptors, plus Pallas´s Gull in addition
7, nights, 8 birding days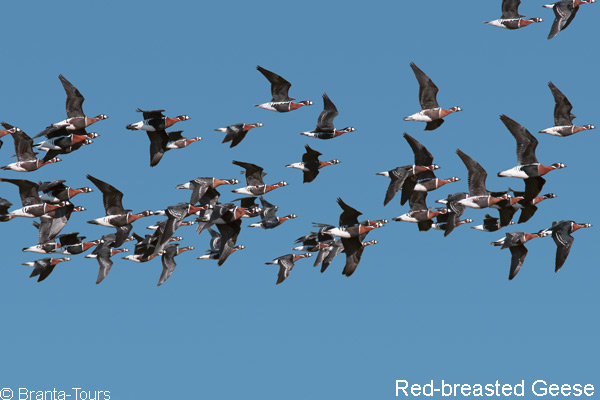 Dates:

January 16 - 23,
January 23 - 30,
February 6 - 13,
February 13 - 20, 2023



Group Size: 4 to 10 people


Starting Point: Varna or Burgas airports
Based: Durankulak 5 nights...Burgas 2 nights

Walking: Easy

Price: (Promotional cost 2023) from €889 (base 4-10 people)

* Promotional statement:
We offer a 5 percent discount to anyone who books a place (and sends deposit) by 30 November.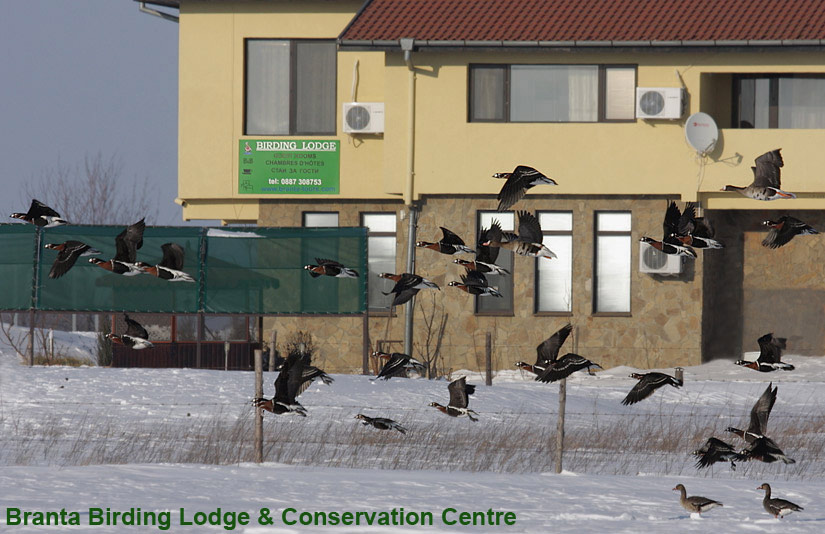 Description: The spectacle of many thousands of overwintering Red-breasted Geese is the central theme to this exclusive winter tour to the western coastal zone of the Black Sea. Large concentrations of White-fronts plus a few of the exceedingly rare Lesser White-fronted Geese are present, plus a large array of waterfowl including divers, grebes and ducks (Shelduck, White-headed Duck, Ferruginous Duck and Smew). If your appetite isn't already wetted how about a follow up cast that includes Pygmy Cormorant and Bittern plus several notable raptors: White-tailed, and Spotted Eagles, Merlin, Rough-legged and Long-legged Buzzards. If the weather permits, we shall also travel up to the Srebarna Biosphere reserve (UNESCO site) by the Danube, for close views of Dalmatian Pelicans in breeding plumage. There is good chance of an Eagle Owl and outside possibility of Greater Black-headed Gull.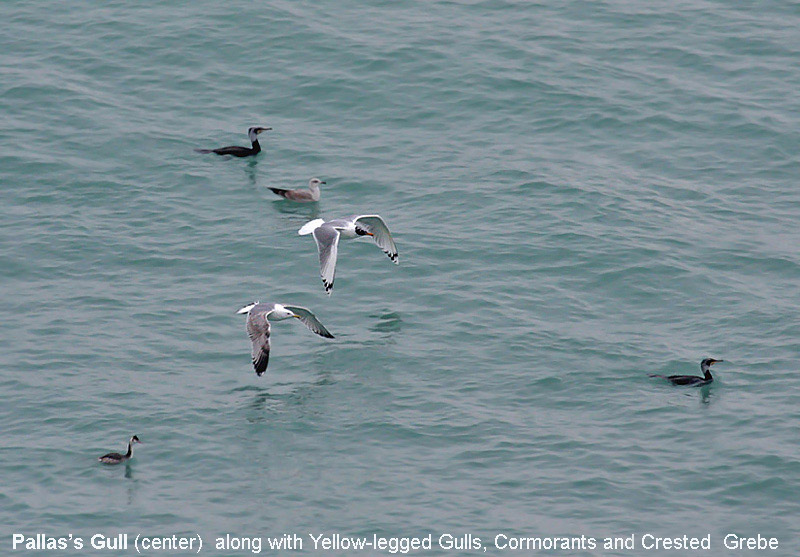 Woodpeckers are well represented (White-backed, Grey-headed, Black, Syrian and Middle Spotted), other passerines including Sombre Tit, Crested and Calandra Larks, Great Grey Shrike and, with luck, Lapland and Pine Buntings.
For a winter tour the overall bird list is outstanding. Romanian brackish lagoons Sinoe, Zmeica, Histria and Vadu, in the southern part of the Danube Delta, will be the major hot spots to be explored along the Romanian Black Sea coast. Bulgarian coastal Lakes Durankulak and Shabla in the north, and Vaya (Bourgas lake) and Atanasovsko in the south are principal wetlands visited, with the steppes of Cape Kaliakra and riparian forests of Kamchia broadening the habitat theme.
Mammals (including three species of Dolphins)are also on the agenda, searched for after dark aided by powerful spotlight. Jackal, Raccoon Dog, Marbled and Steppe Polecats are our main targets, all being relatively common.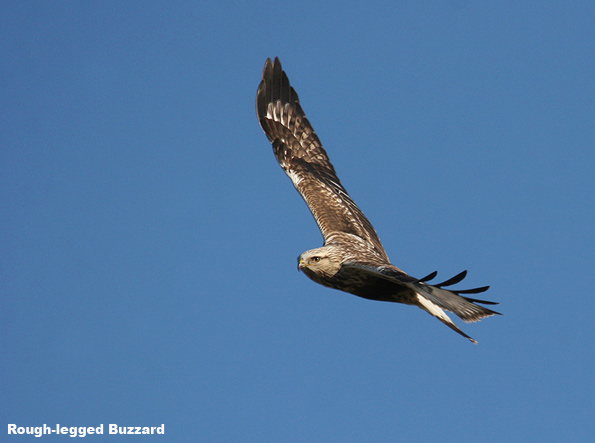 Itinerary:
Day 1: Following your flight to Varna (Burgas optional) you will be met by your knowledgeable local guide, then make the 40 mile journey by minibus to our exceedingly comfortable lakeside accommodation at Branta Birding Lodge, near Durankulak, where we will enjoy its splendid overview and exclusive exhibition including detailed photographic and cartographic materials.
Days 2 - 5: Lakes Durankulak and Shabla, two brackish wetlands surrounded by arable lands, present impressive gatherings of overwintering waterfowl. The spectacle of flying and feeding Red-breasted Geese is the main attraction, with Black-throated Diver, Black-necked Grebe, Pygmy Cormorant, Great Egret, Bittern, White-fronted, Greylag and possible Lesser White-fronted Geese, Ferruginous Duck and Smew also present. Three species of swans (including Bewick if you are lucky) should be seen. Spotted Eagle and Saker Falcon are among the top raptors looked for, Rough-legged and Long-legged Buzzards and Merlin also on the cards.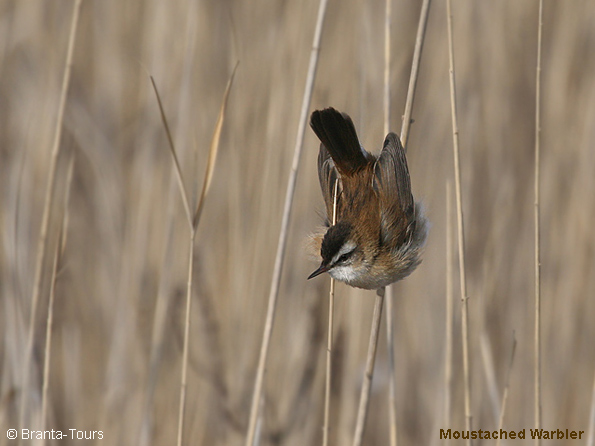 Syrian Woodpecker, Great Grey Shrike, Brambling, Bearded Tit, and the elusive Moustached Warbler are among small passerines of interest, and gatherings of gulls will be examined for Great Black-headed Gull.

From Cape Kaliakra Shag, Mediterranean Shearwater and even Arctic Skua may be spotted, with Crested and Calandra Larks occurring in surrounding steppe habitat. A late afternoon visit to a gorge presents chance of an Eagle Owl, and after-dark spotlighting excursions are undertaken in search of nocturnal predatory mammals.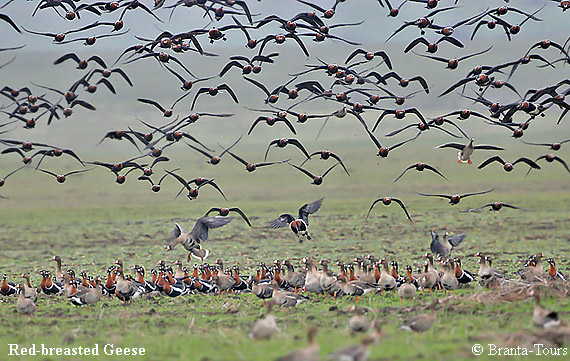 A day trip to Romania (if the weather permits) features unforgettable views of Dalmatian Pelicans, Red-breasted Geese, Long-legged and Rough-legged Buzzards and White-tailed Eagle.

In addition to species already seen we may add the exceedingly rare Pallas´s Gull. Branta Tours is now offering this outstanding opportunity, both in Bulgaria and Romania, to observe this impressive and exclusive Asiatic species - on our very doorstep!

Days 5, 6 & 7: Heading south to our next base we visit the alluvial forests of Kamchia where Goshawk, Grey-headed, Black and Middle Spotted Woodpeckers are of primary interest, and Howfinch, Short-toed Treecreeper, Nuthatch and Long-tailed Tit should be seen.
Locations are also visited where Sombre Tit is resident and, approaching Pomorie, a variety of waders are seen in the salinas (salt pans).
From this base the outstanding wetlands of Lakes Vaya and Atanasovsko are visited, featuring both species of pelicans (Dalmatian and White), Pygmy Cormorant, White-headed Duck (possibly 1,000 or more), Ruddy Shelduck (also possible), Gadwall and other wildfowl. Pallid Harrier, Spotted and White-tailed Eagles are among raptors we hope to see. Further south we visit Strandja Natural Park, where we look for White-backed Woodpecker.
By way of cultural diversion we shall also make a visit to the ancient town of Sozopol.

Day 8: Following breakfast we travel directly to the airport for your return flight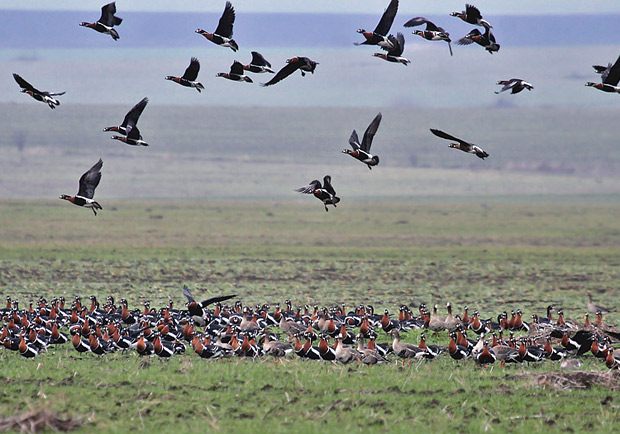 About the tours

Leadership
Pavel Simeonov leads most of the tours personally. He is one of Bulgaria's leading naturalists and ornithologists, one of the Swarovski Recommended Bird Guides. Being actively involved with conservation programmes at national and international level Pavel is able to provide a wealth of background information on wildlife matters, and indeed on cultural topics. He has conducted numerous trips as a bird-guide and leader. Qualified as an international expert on environmental and biodiversity conservation projects he is also the co-leader of the Bulgaria-U.S. Red-breasted Goose Conservation Project.

Accommodation

We offer a very comfortable accommodation for individuals or small groups at :

Branta Birding Lodge (4 nights), our exclusive fledgling base, located just close to the Lake Durankulak - the world's most important wetland habitat for the globally threatened Red-breasted Goose and many other notable ducks, waders and raptors. Breakfast and dinner will be taken at our base that offers Bulgarian and pan-European cuisine, and packed lunch as a picnic or either at local restaurants.

*** Byalata Kashta Hotel (2 nights) near Burgas, which is a highly attractive and recently restored, private establishment with 15 en suite twin-bedded rooms complete with TV.
You will have breakfast and dinner at a folk-tavern offering traditional Bulgarian cuisine.

Transport:

We provide 4WD vehicles that will allow penetrating into the best-concealed and isolated spots.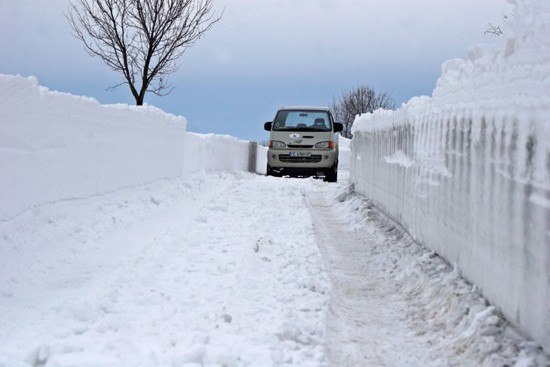 Price:

EUR 789(not including flights) base: 4-10 people


Single room supplement: 65 euro
Single person supplement: 75 euro


Price includes:
Accommodation
B & B in twin rooms;
Seven nights dinner;
Packed lunches days 2 and 6
Drinks: mineral water, fizzy drinks including Coca Cola, tea/coffee
Transportation by 7 or 14-seater minibus (4WD);
All excursions plus transfers in Bulgaria;
Guidance;

Price excludes:
Lunch on days 1 & 8;
Alcoholic drinks and tips;
Transport to and from Bulgaria;
Single Room Supplement (Euro 65)
---
Air Travel
Access: Varna Airport is an International Airport situated 55 miles (1 hour drive) from Branta Birding Lodge. This is entirely optional leaving you completely free to make personally your flight reservations and to pursue your travel arrangements with an airline company or your own travel agent. It is also possible to fly to/from Burgas. In this case we can operate the tour along the route back, i.e. instead of heading to the north after arriving at Varna airport; we can start first in the south and the first birding location to be Burgas wetlands.

Please contact us if you would like further clarification: info@branta-tours.com
Branta-Tours is based in the epicenter of the Red-breasted Goose wintering grounds and incomes from ecotourism are directly allocated to protect this critically endangered long distance migrant from extinction.