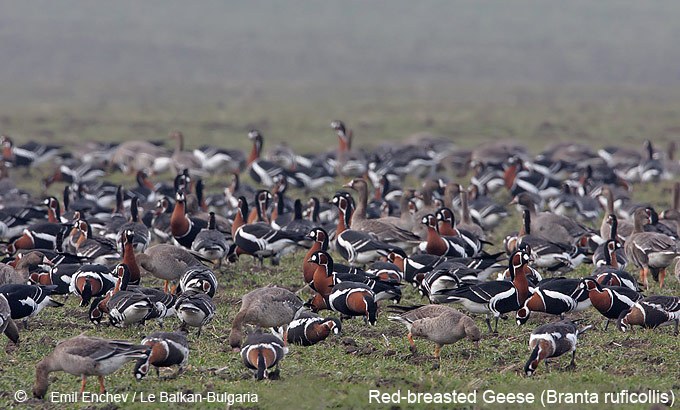 »The Red-breasted Goose (Branta ruficollis) is one of the most beautiful birds in the world

» That's why our company is titled "Branta Tours"

Branta ruficollis is also one of the rarest, smallest and most attractive species of goose. It is adorned with a striking plumage featuring a spectacular pattern of black, white and rusty red.

This colourful creature breeds in the extreme north of the Russian arctic tundra, migrates thousands of miles, and winters almost entirely at Durankulak Lake and its surrounding farmlands and pastures in Bulgaria.

Numbers of wintering Red-breasted Geese have declined dramatically in the last decade, from as many as 88,000 up through the year 2000 to fewer than 28,000 in recent years.

» That´s why the IUCN now categorizes Branta ruficollis as the world´s most endangered goose.

» That´s also why our company is called Branta Tours.

» That´s why our central headquarters is based in the epicentre of the Red-breasted Goose wintering quarters.

» That´s also why 20% of our incomes are directly allocated to help protect Branta ruficollis from extinction.




Dear Customer,

We´re pleased to welcome you to our Branta Tours birdwatching site.

We are delighted to bring to your attention a variety of birding events on offer in our programme.

Located in Durankulak (northern Black Sea coast of Bulgaria), Branta Tours is a licensed travel company that specialises in developing and operating Professional Guided Trips and Wildlife Watching Excursions to observe flora and fauna, in particular birdwatching, to top birding locations in Bulgaria, Hungary, Belarus, Central Siberia, Ural, Azerbaijan, Ukraine, Romania, Scotland and Southern France (including Corsica).

We are now presenting new destinations, designed to broaden your wildlife experience as we venture to the wilder side of the Western Palaearctic...and beyond.

Most of our scheduled tours are tailored for serious birders and photographers, but we also offer General Nature Trips and Wildlife Holidays. These focus on birds and mammals (including marine species), together with reptiles and amphibians, butterflies, dragonflies and wild flowers, plus other aspects of the wildlife scene.

In terms of your personal birdwatching requirements we are very flexible and willingly tailor our programmes to suit your specific needs. We are, for example, prepared to adjust tour programmes to coincide with your airport of arrival and/or departure. In addition, we are happy to offer different Customised Tours that may operate at any time, catering for your particular interest or request.

We can also adapt itineraries to focus on those species you especially wish to see, remaining flexible as to tour length. Some of our clients seek particular target species but have limited time available, in which cases we are always ready to oblige.

If you wish to be certain of observing a particular highlight, for example Red-breasted Goose or Paddyfield Warbler, then please watch our website for announcements of their arrivals.

We are now well positioned to offer guided trips in the most exciting Eastern European countries and Russia. Many of these still possess huge areas of unspoiled nature, few people being aware that such pristine reservoirs of wildlife still exist. Our wide range of experience enables us to provide this specific type of holiday.

Apart from the experience of observing great variety of birds and other wildlife, you will also be able to enjoy the warmth of Slavic hospitality and delicious traditional cuisine.

In the following site we have attempted to present a real teste of the actual experience, for prospective participants of a Branta Tours holiday. We are completely confident that the eastern realms of Europe, so close yet so enigmatic, will soon rate among the most alluring and important nature destinations anywhere and, through our tours, you have the opportunity and privilege of being among the first explorers!

Branta Tours is equipped with Swarovski Optics to ensure the best possible birding experience for your trip.

1.Our team consists of experienced naturalists.
2.Our tours are escorted by knowledgeable local guides, who speak English, French, German and Russian.
3.Our programmes are prepared in collaboration with the scientists of "Le Balkan Bulgaria" Foundation (www.lebalkan.org) and we have direct access to the advice and knowledge of principle avian ecologists and specialists in long-term monitoring of bird communities.
4.Our groups comprise 2 to 15 people accommodated from 1 to 15 nights.
5.Destinations are selected for a variety of themes: observation of rare and remarkable species, wintering geese and other waterfowl, autumn migration of soaring birds - especially raptors, endemic plants and large mammals, also introductory lessons in birdsong.

Our advantages:

1. Small group size and 4WD vehicles facilitate exploration of the most secluded and remote sites.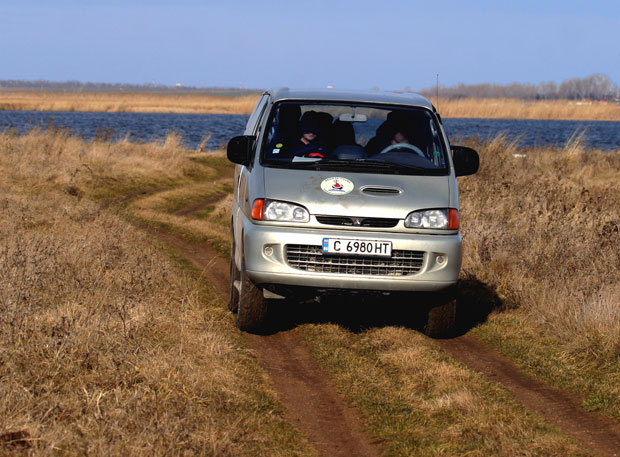 2. Locational content: visits to very special environments, exceedingly comfortable hotels, well-located bird lodges and cosy guesthouses, good food and good company.
3. Choice of birding locations: Our tours combine visits to the top bird-rich locations, where we remain constantly alert to the appearance of unexpected items. Thus we achieve the maximum number of species seen, often exceeding the most ambitious expectations on the bird scene.
4. Flexibility: At your request we can modify dates within our programme to operate at any time.
5. Quality of observations: Our approach is to produce high quality birdwatching with regards to duration of observation, close proximity to subjects and consideration of light direction. We readily repeat viewing of species if they occur in different situations, reflecting behavioural aspects, sex, age and plumage.
6. A network of collaborators: We work together with local rangers and experts who keep us constantly up-dated on current situations on the bird scene, thus saving valuable time in the search for rarities.
7. Exchange of information: During trips we exchange information with other birdwatchers at every encounter.
8. Professional guide-ornithologist: Pavel Simeonov personally leads most of the tours. As your full-time escort and driver his sharp-eyed vigilance ensures that not a single item is missed, thereby augmenting the final impressive checklist tally. In addition, we are delighted to announce that Branta Tours was recommended by Birdwatch readers as top-ranked tour company offering high standard of service and holiday to its customers (cf. Birdwatch Magazine, February 2010, Issue 212).
For further information please contact us at info@branta-tours.com or download our free printed brochure.
Nature conservation is the second field of our activity, the internationally prestigious company Swarovski Optik being one of the essential sponsors supporting the flourishing of the Dalmatian Pelican breeding colony in Bulgaria. This project became a successful example of international partnership for nature conservation. It shows that with the right partners, appropriate management, and targeted financial sponsorship there is still room for this large and beautiful waterbird to not only survive but prosper on this planet we all share. The year 2012 will celebrate the 15th anniversary of the successful long term partnership between Branta Tours, Swarovski Optik and Le Balkan Bulgaria Foundation. Further details of the celebrations will follow in due course.
Branta Tours is also involved in another significant project, concerning the First successful satellite tracking of Red-breasted Geese within the framework of joint activities between the U.S. Fish & Wildlife Service, the Bulgarian ministry of environment and water (MoEW) and Le Balkan Bulgaria Foundation. To learn more about the plight of this critically endangered species and its urgent conservation needs, see the following web site: www.redbreastedgoose.org

About Tours to Bulgaria

Spring Birdwatching: extremely high bird tally

One tour is in late April/early May, one in the middle of May and the other is in late May/early June. Bird list can be the longest for any European tour. In Spring you can see and admire: Dalmatian and White Pelicans, Pygmy Cormorant, Ruddy Shelduck, the desmaresti sub-species of Shag, Glossy Ibis, Purple and Squacco Herons, Little Bittern, Bee-eaters, Rollers, Masked and Lesser Grey Shrikes, Penduline and Bearded Tits, Wallcreeper, Rock Nuthatch, Balkan Wagtail, Tawny Pipit, Calandra and Short-toed Larks, birds of prey, including Red-footed Falcon, Eastern Imperial Eagle, Long-legged Buzzard, Levant Sparrowhawk, booted and Short-toed Eagles and 3 species of Vulture (Neophron percnopterus, Aegypius monachus and Gyps fulvus), Paddyfield, Moustached, Olive-tree, Olivaceous, Icterine, Barred, Orphean, Sub-alpine and Eastern Bonelli's Warblers and other unusual passerines like the Eastern Semi-collared Flycatcher, Rose-coloured Starling, Pied, Isabelline and Black-eared Wheatears, Ortolan, Black-headed and Rock Buntings, thousands of waders including Collared Pratincole, Kentish Plover, Marsh, Curlew and Broad-billed Sandpipers, Temminck's Stint, Gull-billed Tern, Slender-billed and Mediterranean Gulls, Yelkouan Shearwater, etc, etc… 200 + expected for 7-day tour

Autumn Migration: 25 Raptors, Pelicans, Waders and passerines

September is the best time to see the maximum number of birds and species. On the autumn migration tour we focus on the huge numbers of raptors, storks and pelicans (over 250,000 White and 10,000 Black Storks, 20,000 White Pelicans, many Short-toed and Booted and over 10,000 Lesser-Spotted Eagles for example are recorded on the Via Pontica Flyway, plus many Red-footed Falcons, Levant Sparrowhawks, the rufous eastern race of Buzzard - vulpinus and if you are lucky a Saker Falcon, Eastern Imperial Eagle or Steppe Eagle can be spotted. Little Crake, Red-necked Grebe, Caspian Tern, Bittern and Little Bittern are also seen along the Bulgarian Black Sea coast. We also spend time observing huge numbers of waders and passerines including many unusual and mythical species like Sombre Tit and Red-breasted Flycatcher.

Winter Tour : Red-breasted Geese

This usually takes place in mid February, after the hunting season when the birds are easier to approach and before their return migration. On the winter tours there are hundreds of thousands of wintering geese, including almost all of the world population of Red-breasted Goose (Branta ruficollis) and often two or three Lesser White-fronted Geese are seen in the large mixed flocks of White-fronted and Greylag Geese. White-headed Duck, Bewick's Swan, Red-crested Pochard, Smew, Great Black-headed Gull, Dalmatian Pelican and sometimes White Pelican can be seen. Winter raptors include Merlin, Spotted and White-tailed Eagle, Pallid Harrier, Long-legged and Rough-legged Buzzards.
Large Mammals and Birds: Brown Bear
This newly designed spring event contains one of the most attractive and extensive wildlife packages we have ever offered. During this trip Branta-Tours is according high importance to finding mammals, Brown Bear (viewed from a hide at a private reserve), Balkan Chamois, Jackal, Steppe and Marbled Polecats being top of this tour list, with European Souslik and three species of Dolphins in support. Reptiles and amphibians also feature, including Stripe-necked Terrapin, European Glass Lizard and Green Toads.
Bird list includes Dalmatian and White Pelicans, Pygmy Cormorant, Ruddy Shelduck, Ferruginous Duck, Chukar, 20 raptor species, 5 Wheatear species, Roller, Bee-eater, Citrine Wagtail, Wallcreeper, Rock Nuthatch, Sombre Tit, Semi-collared Flycatcher and Nutcracker - by way of a small sample (over 200 species expected).


Spring Botany and Birds:
The Bulgarian Black Sea coast is one of the most interesting areas from floristic and faunistic point of view. The vegetation is formed under different migrational flows. There are sands and dunes, which still are not so damaged by the human impact. The natural riches (biodiversity, ornithological important areas, wetlands etc.) are closely related with very rich historical and cultural heredity. The coastal Dobrudja is one of the most attractive areas to be visited. The steppe ecosystems in Kaliakra reserve and the adjacent territories, covering in the past century a big part of the region, are rich in wildlife as well as plants and this is one of the best sites in Europe to see more than 600 plant species including Broad-leaved Peony.


Natural History Tour:
This tour is aimed at people with a general interest in wildlife and could be suitable for birdwatchers and their non-birding partners that can find beautiful mixture of activities like archaeology, history, shopping, but also learn some interesting birds and other wildlife identification. This is an absolutely fantastic time to visit this scenic and nature-rich country, when wonderful wild flowers (including an endemic species of orchids) dazzle at every turn, the fresh green foliage of springtime is unfurling, target rare dragonflies also feature and bird song fills the air. Temperatures are extremely warm and agreeable, stimulating activity among reptiles, amphibians and butterflies. Birdwatching events will be wonderfully diverse. Mediterranean-like locations present us with many South-Eastern specialities, of which Rock Partridge, Rock Nuthatch, Rock Sparrow, Olive-tree Warbler, Isabelline Wheatear, Black-headed Bunting and Sombre Tit are found in few other European destinations. Wallcreeper, Nutcracker and Alpine Accentor are other highlights to be seen at upper altitudes. Mammals feature significantly, with a Brown Bear watch, being the top attraction. We shall also see Balkan Chamois and other ungulates, European Souslik (marmot-like rodent), plus predators including Jackal, and very possibly Marbled and Steppe Polecats. By way of cultural diversion we shell visit one of the oldest Bulgarian monasteries. In short, there is something for everybody.



The above-mentioned species are not a full list by any means. Please ask for our detailed checklists.

We also offer two day overnight trips staying at the exclusive lakeside accomodation at Branta Birding Lodge or day-trips for people staying at neighboring Bulgarian or Romanian resorts.
In addition to the ecological approach we also have many important sites of archaeological interest on both sides of the border. For example, on the Bulgarian side, the "Big Island", situated on Durankulak Lake, is just 300 metres from Branta Birding Lodge. There are the first known stone buildings in Europe.
In Bulgaria, our guests have witnessed the departure of the globally threatened and beautiful Red-breasted Geese for their Siberian breeding grounds, an ultimate event for birders (see article)
In Bulgaria, our guests have witnessed the unforgettable massed gathering of Red-footed Falcons in readiness for their autumn migration, a once-in-a lifetime spectacle... (see trip report)
Wouldn't you like to have the chance to witness one of these or similar spectacles?