Autumn migration

Via Pontica flyway


September 12 to 19 and September 28 to October 5

Description: This exciting tour to the western coastal zone of the Black Sea features one of the most pronounced movements of migratory birds occurring in Europe. The famed passage of raptors and storks over the Bosporus is fed by a concentrated corridor of birds funnelling along the Bulgarian coast (known as the 'Via Pontica' flyway).
Some local breeding birds will have departed the area, but numerous small passerines, waders and waterfowl are moving down from their northern breeding grounds.
Our tour catches the migration at its peak, when countless thousands of raptors, storks, pelicans, waders and small passerines ensure a day to day action-filled experience. Located at the crossroads between east and west the checklist of species promises to be one of the longest - and most exotic - for any European tour.

Lesser Spotted, Short-toed and Booted Eagles, Steppe, Long-legged and Honey Buzzards, four species of harrier, Levant Sparrowhawk, Saker and Red-footed Falcons are among the large cast of appetising raptors - lots of opportunity to hone your ID skills. White and Black Storks, Dalmatian and White Pelicans also soar overhead, while Pygmy Cormorant, Great Egret and other herons, Spoonbill, Glossy Ibis and Crane are some of the highlights of wetlands visited. Just about anything is possible on the wader front - Marsh and Broad-billed Sandpipers are regular - and small passerines often pass through in droves; Ruddy Shelduck and Ferruginous Duck are notable wildfowl.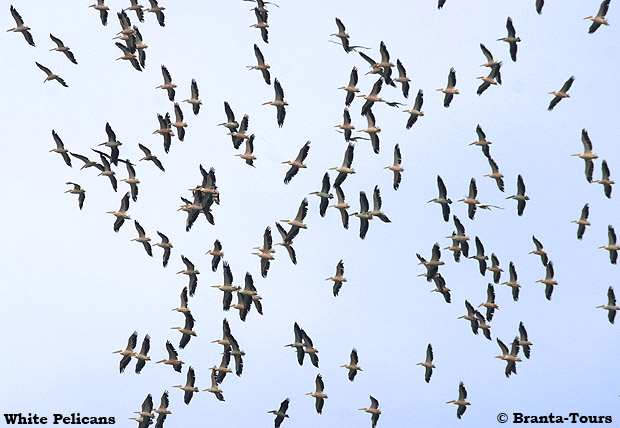 But the tour isn't just about birds. We shall also try to find mammals (including three marine species), of which Jackal, Marbled and Steppe Polecats, Romanian Hamster and European Souslik are of particular interest. To this end we embark on our well-tested and highly successful spotlighting sorties after dark - a very popular and addictive activity. We may also encounter amphibians and reptiles - Eastern Spadefoot (toad), Stripe-necked Terrapin, Balkan Wall and European legless Lizard, Reddish Whip, Leopard and Four-lined Snakes - and late wild flowers will doubtless inspire interest.
We visit some of the most important wetlands in Europe, unspoiled dunes and beaches, pristine steppe habitats and wooded valleys, at a time when visitors are few and the azure blue waters of the Black Sea may be enjoyed in the warmth of early autumn sunshine.
NOTE This tour is limited to 10 participants and offered at a reduced promotional cost
Itinerary
Day 1: Flight out to Varna (via Sofia) to be met by your knowledgeable local guide, then make the 40 mile journey to your exclusive lakeside accommodation by the Black Sea at Branta Birding Lodge, near Durankulak.
Days 2 - 4: From this very comfortable base in the Coastal Dobrudja we visit Lakes Durankulak and Shabla, two pristine brackish wetlands lying in the path of main migration and serving as major staging points for large gatherings of birds: Pygmy Cormorant, Glossy Ibis, White and Dalmatian Pelicans, Ruddy Shelduck, Ferruginous Duck and Red-crested Pochard, with many waders and small passerines in evidence.
Cape Kaliakra is a wonderful area of steppe bounded by lofty sea cliffs (Eagle Owls nest) and featuring several sites of archaeological note. Looking out to sea we should see Mediterranean Shearwaters (Yelkouan race) clipping the water surface, with a steady drift of soaring birds passing by and, with luck, breaching dolphins. Stone Curlew, Dotterel, Hoopoe, Calandra and Short-toed Larks, Tawny Pipit and flocks of Bee-eaters are among birds we look for on the steppe, also keeping an eye out for mammals and reptiles - this is the haunt of Steppe and Marbled Polecats, European Souslik and Romanian Hamster. Migrating raptors and passerines frequently touch down at the cape.
Day 5: We set off on the 90 mile journey to Burgas, stopping en route to explore Kamchiya Reserve with its renowned alluvial forest (known as Longoz). Black, Grey-headed and Middle Spotted Woodpeckers, and Short-toed Treecreeper are resident birds.
Nessebar, a charming Byzantine port featuring many ancient buildings, is also visited. We shall be given a guided tour of Sozopol, near Burgas, most westerly point along the Black Sea, continually glancing skywards at the raptors passing overhead (Lesser Spotted Eagle, Levant Sparrowhawk and Steppe Buzzard amongst others). For the next two nights our base is Pomorie, a small port just a few miles to the north of Burgas.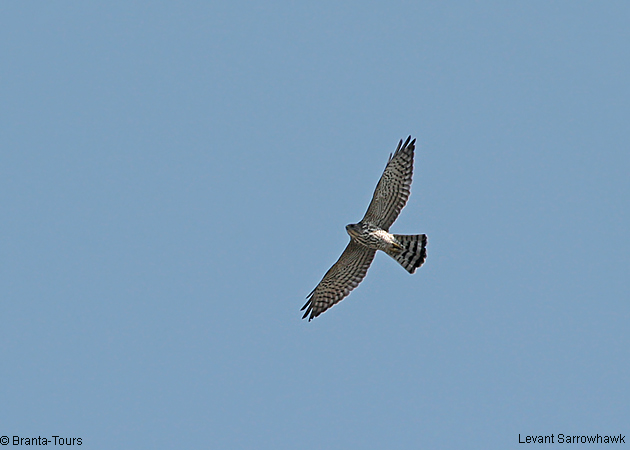 Days 6 & 7: Today's exploration of nearby Lake Atanosovsko and surrounding saltpans promises a phenomenal range and quantity of birds - far too numerous to list! This is Bulgaria's premier bird location - in fact one of Europe's principal 'hot spots' - where just about any European wader can turn up including Terek, Marsh and Broad-billed Sandpipers, and scene of an awesome spectacle of raptor passage. In addition to species already seen we may with luck add Imperial, Spotted and Steppe Eagles, Pallid Harrier and Saker. Cranes are also present in their thousands.
South of Burgas we visit the reed-fringed Lakes Mandra and Poda with flanking water meadows and woodlands, where Spoonbill, Purple, Squacco and Night Herons, Great and Little Egrets, Black-winged Stilt and Avocet are seen, also Bearded Tit, plus passage pipits and wagtails. We also visit Strandja Natural Park to explore the oldest Bulgarian nature reserve, where we look for White-backed Woodpecker.
Day 8: After breakfast, we set off on the return journey. Heading north we pause at the Salinas of Pomorie to see the usual show of waders. An hour will be spent in the ancient town of Nessebar featuring a great deal of traditional architecture. Birds on the scene include the Yelkouan Shearwater, Yellow-legged Gull and its sub-species michahellis. Continuing north the route ascends through the wooded hills of Eastern Balkan mountain range, bringing us to our next stop at Cape Emine. Reaching cliff-top scrub above the sea we look for cetaceans and migrating raptors. Locations are also visited where Sombre Tit and Ruddy Shelduck are resident birds.
Following our picknick and a final spot of local birdwatching you catch your return flight.