Red-breasted Goose Short Breaks
Unique opportunity to visit the world wintering site of the stunning and very endangered Red-breasted Goose.
Branta-Tours will give you now the chance to see this Enigmatic Arctic Breeder right on the doorstep of our Birding Lodge.
Large concentrations of White-fronted Geese plus a few of the exceedingly rare Lesser White-fronted Goose also feature in the programme, plus a large array of waterfowl including divers, grebes and ducks. There is good chance of an Eagle Owl and outside possibility of Greater Black-headed Gull. Little and Pontic Gulls, desmaresti sub-species of Shag, Syrian Woodpecker, Calandra Lark and Bearded Tit are also on the agenda. Raptors are well represented too including White-tailed Eagle, Rough-legged and Long-legged Buzzards, Marsh and Hen Harriers, Merlin, Peregrine and, with a good luck, Saker Falcon and Greater Spotted Eagle may be spotted.
We provide comfortable and affordable accommodation at Branta Birding Lodge overlooking Durankulak Lake and Black Sea in Bulgaria.
The best time of year to see Red-breasted Geese is during the months of January and February.
Programme may be adapted to your schedule.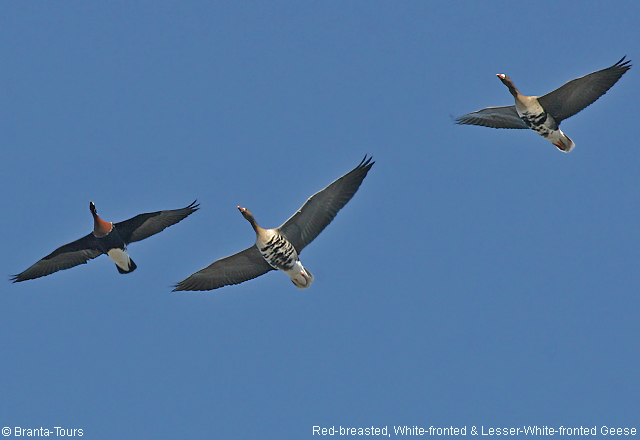 Help the Conservation of the critically endangered Red-breasted Goose by choosing one of our guided tours in Bulgaria

Cost::

- Three-night stay, for only € 345.00 - Base: 2-4 Pax, or € 329.00 for 5 people and +

- Four-night stay, for only € 415.00 - Base: 2-4 Pax, or € 399.00 for 5 people and +

- Five-night stay, for only € 495.00 - Base: 2-4 Pax, or € 469.00 for 5 people and +

- Single person supplement: € 99,- - Single room supplement: € 39,-

Price includes:


- Full-board in a double ensuite room, staying at Branta Birding Lodge.

- Packed lunches except for days 1 and last.

- Collection from and return to Varna or Constanta airports. Airport transfers during the night (midnight to 6.30 AM) cost additional 60 Euro.

- Full day guided trips from our base to outstanding local birdwatching locations including one-day excursion to Romanian wetlands.

- Your knowledgeable guide who speaks fluent English and French and lives locally.

Price excludes:


- Lunch on days 1 & last;

- Alcoholic drinks and tips;

- Transport to and from Bulgaria;

- Single room supplement, visas and health insurance.

* Promotional statement:
We offer a 5 percent off the listed prices for anyone who makes a reservation with Branta Birding Lodge (and sends deposit) by 30 November.

Branta-Tours is based in the epicenter of the Red-breasted Goose wintering grounds and incomes from ecotourism are directly allocated to protect this long distance migrant from extinction .