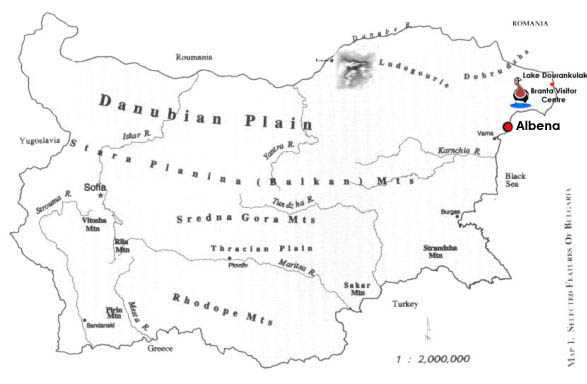 Bulgaria is the highest land on the Balkans, bordering with the Danube River to the north and the beautiful Black Sea coast to the east. It is the homeland of Orpheus and Spartacus and the treasure-house of early Slavic scripts. It is also one of the most exciting birding destinations in Europe. Located at the crossroads between the North and the South, the East and the West, it provides indeed the longest checklist of species for any European tour.

Bulgaria's Black Sea coast has extraordinary bird-life all year including up to 50,000 Red-breasted Geese in winter, most exciting spring and autumn migration and numerous Eastern European breeding specialities.

Our specialities:
- The Wintering flocks of 20 000 to 50 000 Red-breasted Geese.
- The breeding colonies of Dalmatian Pelicans, Spoonbills, herons and Pygmy Cormorants along the Danube River.
- The impressive canyons of the Rhodope Mountains, with their cliff-nesting population of Black Storks... and the knowledge that this is the right place in Europe to see the following birds:
- Red-necked Grebe, Yelkouan Shearwater, the desmaresti sub-species of Shag, Glossy Ibis, Purple and Squacco Herons, Little Bittern, White-headed Duck, Ruddy Shelduck, Red-breasted and Lesser White-fronted Geese, many raptors including 3 species of vulture, Booted and Short-toed Eagles, Red-footed Falcon, Long-legged and Rough-legged Buzzards, Levant Sparrowhawk, the rufous eastern race of Buzzard (vulpinus) and, with luck, Saker Falcon, Eastern Imperial Eagle or Steppe Eagle, Little Crake, Bittern and Little Bittern, Bee-eater, Roller, Masked and Lesser Grey Shrikes, Sombre, Penduline and Bearded Tits, Wallcreeper, Rock Nuthatch, Balkan Wagtail, Tawny and Water Pipits, Calandra, Short-toed and Shore Larks, Paddyfield, Moustached, Olive-tree, Olivaceous, Icterine, Barred, Orphean, Sub-alpine and Eastern Bonelli's Warblers and other unusual passerines like Red-breasted and Eastern Semi-collared Flyacatcher, Rose-coloured Starlings, Jackdaws of the eastern white-collared race soemmerringii, Nutcracker, Isabelline, Black-eared, Pied and Finsche's Wheatears, Blue and Rufous-tailed Rock Trushes, Alpine Accentor, Ortolan, Black-headed and Rock Buntings; thousands of waders including Collared Pratincole, Kentish Plover, Marsh, Curlew and Broad-billed Sandpipers, Temminck's Stint; Gull-billed and Caspian Ters, Slender-billed, Mediterranean and Great Black-headed Gulls, etc, etc... so many species of exceptional interest to ardent birdwatchers.

Birdwatching Holidays in Bulgaria

Outstanding birdwatching offered at Branta Birding Lodge.
*Our special offer
:
2-day
and
Long weekend
trips,
Species-specific circuits
and
three to seven day overnight trips
staying at the exclusive lakeside accomodation at
Branta Birding Lodge
located just close to the Durankulak Lake Protected Area - the world's most important wetland habitat for the globally threatened
Red-breasted Geese
over flying the center (in winter) and many other notable ducks, waders and breeding passerines including
Paddyfield Warbler
(in spring).
Enjoy a diverse habitat including lakes, forests, plain and the sea all within one hour of our center.
"Branta-Tours" offers that mix of excellent birdwatching and accommodation all year round.
From our base we organize outstanding bird watching trips with seven species of Woodpecker resident and Hawfinch, Golden Oriole, Beeeater, Roller and Hoopoe, all common. Other specialities include Olive-tree Warbler, Pied Wheatear, Semi-collared Flycatcher, Lesser Grey Shrike, Black-headed Bunting, Red-footed Falcon, and Lesser Spotted Eagle, along with Little, Whiskered, Black, Sandwich, Gull-billed, and Caspian Terns. Passage can be outstanding with thousands of Raptors, Storks, Pelicans and Cranes.
We also offer day-trips and half-day trips for people staying at neighboring Bulgarian or Romanian resorts to visit some of the most important wetlands in Europe and discover the outstanding wildlife of the Black Sea coast, all within one hour of your resort.

Enjoy full day trip offered at a reduced promotional cost, leaving the resort at 09:00 AM and returning at 06:00 PM.
Rates per person:
1 pax = € 75,-
2 pax = € 90,-
3 pax = € 105,-
4+pax = € 120,-
Day Booking Birding Trips include:
- Full days excursions from your resort.
- Expert guidance from one of Bulgaria's leading ornithologists.
- Trips include visits to ancient forests to see seven species of Woodpecker, three species of Eagle and many Eastern-European speciality woodland birds. In spring the forest is alive with the song of nightingale and many other forest birds.

- We also visit the Black Sea coast and observe many rare birds that inhabit this area including various terns, gulls, cormorants, grebes, ducks and shearwaters. In spring and autumn there is a spectacular migration of eagles, storks and pelicans. We can also see three species of dolphins as they play just of the sea shore.
- Enjoy the spectacular wild flowers and butterflies in the spring and summer.
Lunch will be taken at beautiful Bulgarian restaurants that serves traditional local specialities.
In addition to the ecological approach we also have many important sites of archaeological interest on both sides of the border. For example, on the Bulgarian side, the "Big Island" situated on Durankulak Lake, is just 300 metres from our lodge. There are the first known stone buildings in Europe.

* It has never been easier to reach the Bulgaria's Black Sea as British Airways now flies direct to VARNA (just south of Albena). Another option could be to take a charter flight offered by Malev Airlines (www.malev.com) all year round. It is also possible to fly to Burgas or Bucarest. For this we take an extra charge of EUR 50 to cover the tour leader's travel expenses.