Spring Birdwatching Trip
Day 5:
Durankulak - Bourgas
After breakfast transfer (120 miles) to the city of Burgas. Likely bird sightings en route include Eastern Bonelli's Warbler and Ruddy Shelduck, with a possibility of Imperial Eagle.
We stop off to explore the Kamchiya Reserve with its remarkable alluvial or Longoz forest, one of the most northerly of its kind in Europe. The reserve complex, totalling about 1500 ha., includes dunes, beach, estuary and small freshwater pools. This is an area of considerable botanical interest; the rare Nuphar lutea and Nymphaea alba occur in the marshy areas, whilst Silene euxina and Coryspermum nitidum are found in the dunes.
Breeding birds include Semi-collared Flycatcher, Short-toed Treecreeper, Black, Grey-headed and Middle Spotted Woodpeckers, Goshawk and Lesser Spotted Eagle.

For the next two nights our base is in Pomorie, a small port just a few miles to the north of Burgas.

Dinner and first of two nights in a beautiful hotel located on the shore of the Black Sea.
Day 6:
Bourgas Saltpants
Today we explore Lake Atanasovsko Reserve, arguably Bulgaria's foremost birdwatching location and one of the country's five « RAMSAR » sites. The 1690 ha. complex includes extensive saltpans, freshwater pools, marshes and areas of scrub and semi-steppe. The reserve's position on the east European Via Pontica flyway attracts a great variety of migrants in spring and autumn. More than 300 bird species have been recorded here.
We will be able to enjoy the spectacle of the lake's breeding birds, including some hundreds of Avocets, Black-winged Stilt, Collared Pratincole (Black-winged have been seen here too!), Kentish Plover, Gull-billed Tern, Mediterranean Gull, Little Tern, Marsh Harrier and Penduline Tit. Caspian Tern, Slender-billed Gull and Squacco Heron are also seen at this season, and we may turn up Marsh Sandpiper. Cetti's Warbler and Little Bittern breed in the reedbeds, and Black-headed Buntings and Red-backed Shrikes are numerous on fields surrounding the lake.
So large and attractive a site in such a strategic position can also turn up surprises.
The reserve has plenty of botanical interest, including two species endangered in Europe: Coryspermum nitidum and Lepidotrichum uechtritzianum.
For dinner we sample traditional Bulgarian cuisine in a folk-tavern in the historic town of Nessebar. Return for second night in hotel.
Day 7:
Poda, Ouzungeren and Mandra
We will spend the morning exploring the wetlands immediately to the south of Burgas.
The reedbeds of Poda host a mixed breeding colony of Spoonbill, Little Egret, Purple Heron and Glossy Ibis. Waders on nearby brackish pools could include Marsh and Broad-billed Sandpiper, Kentish Plover and, with luck, Terek Sandpiper, whilst Black-Winged Stilt breeds here, along with Savi's and Cetti's Warblers in the reeds.
On the neighbouring lakes of Ouzungeren and Mandra, we may see Ferruginous Duck, Bearded Tit, Squacco and Night Heron and we should watch the skies for passing flocks of summering White Pelicans.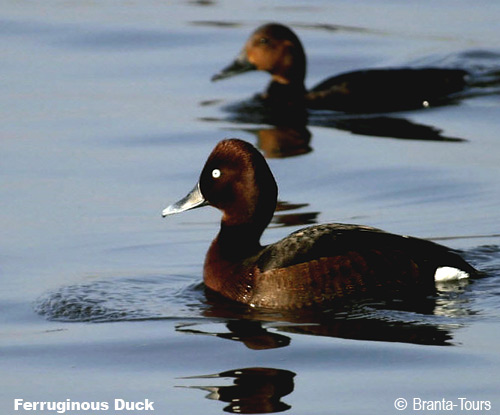 In the afternoon we return to Varna and make a tour of the town before dinner and last night in Bulgaria. Heading north we pause at the Salinas of Pomorie to see the usual show of waders. The adjacent small village is one of the best places in Europe to see the breeding colonies of Rose-coloured Starlings. An hour will be spent in the ancient town of Nessebar featuring a great deal of traditional architecture. Birds on the scene include the Yelkouan Shearwater, Yellow-legged Gull and its sub-species michahellis. Continuing north the route ascends through the wooded hills of Eastern Balkan mountain range, bringing us to our next stop at Cape Emine. Reaching cliff-top scrub above the sea we look for cetaceans. Breeding specialities include Sombre Tit, Rock Bunting, Masked and Woodchat Shrikes, Wood Lark, Tawny Pipit, Barred, Olive-tree and Olivaceous Warblers.
Day 8:
Varna Aairport
After breakfast transfer to the airport for your return flight.