Spring Birdwatching Trip - Bulgaria
Dates: late April/early May, middle of May & late May/early June

8 days (7 nights)
Spring is the best period for all birders, bird lovers and listers. During this time you can see almost all south-eastern specialities including Dalmatian and White Pelicans, Pygmy Cormorant, Ruddy Shelduck, the desmaresti sub-species of Shag, Glossy Ibis, Purple and Squacco Herons, Little and Great Bittern, 20 species of Raptors (including Levant Sparrowhawk, Red-footed Falcon, Eastern Imperial Eagle, Long-legged Buzzard, Booted, Lesser Spotted and Short-toed Eagles), Bee-eaters, Rollers, Masked, Woodchat and Lesser Grey Shrikes, Penduline, Somber and Bearded Tits, Balkan Wagtail, Tawny Pipit, Calandra and Short-toed Larks, Paddyfield, Moustached, Olive-tree, Olivaceous, Icterine, Barred, Orphean and Eastern Bonelli's Warblers as well as many other unusual passerines like the Eastern Semi-collared Flycatcher, Rose-coloured Starlings, Pied, Isabelline and Black-eared Wheatears, Ortolan, Black-headed, Cirl and Rock Buntings, thousands of waders including Collared Pratincole, Stone Curlew, Kentish Plover, Terek, Marsh, Curlew and Broad-billed Sandpipers, Temminck's Stint, Gull-billed Tern, Slender-billed and Mediterranean Gulls, Yelkouan Shearwater, etc, etc…
Day 1:
Bulgaria (Varna – Durankulak)
Flight to Varna. On arrival you will be met by a representative of «BRANTA TOURS». Transfer (40 miles) to our exclusive lakeside accommodation at Branta Birding Lodge situated on the Nothern Black Sea coast, just 3 miles from the Romanian border, with a stop-off en route at the resort of Albena to visit its alluvial forest "Baltata".
Branta Birding Lodge, overlooking Durankulak Lake, is our base for the next four nights where we will enjoy its splendid overview and visit its exhibition including detailed photographic and cartographic materials.
Day 2:
Shabla
After breakfast, we drive south (10 miles) to first major destination, Lake Shabla, Bulgaria's most important wintering location for geese and ducks. At this season we look for Paddyfield Warbler, Red-necked Grebe, Whiskered and Black Terns, Red-crested Pochard and Bearded Tit. On fields near the lake you should see the Balkan sub-species of the Yellow Wagtail, the beautiful black-headed feldegg race, while Barred Warblers often sing from patches of scrub. Likely bird sightings en route include Calandra Lark, Lesser Grey Shrike and Syrian Woodpecker.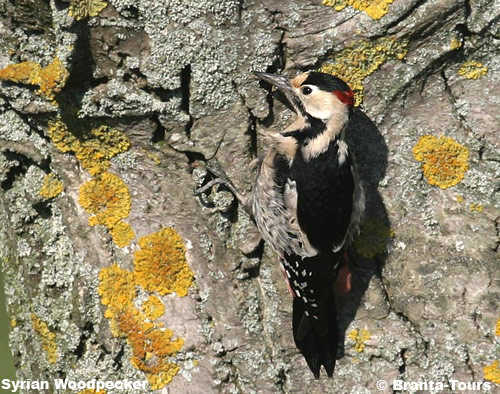 We will spend the afternoon at Shabla Touzla - a small, high salinity lagoon, famous for the curative properties of its mud. Here we could see Little Tern, Red-footed Falcon, Barred Warbler, Lesser Whitethroat, Moustached and Olivaceous Warblers, Reed Bunting, Broad-billed and Marsh Sandpipers and Little-ringed Plover...
Return to our base for dinner and second night at "Branta Birding Lodge".
Day 3:
Lake Durankulak
After breakfast, we spend the day exploring Lake Durankulak, a «Ramsar» site and "location of outstanding natural beauty" close to the Rumanian border and fringing on the Black Sea itself. The brackish waters and huge reed beds hold Pygmy Cormorant, Ruddy Shelduck, Bittern and Little Bittern, Purple Heron, Red-necked Grebe, Ferruginous Duck, while Paddyfield Warbler is among the major tour highlights. Tall hedges and windbreaks in the vicinity of the lake hold good numbers of Red-footed Falcons and Lesser Grey Shrikes. The adjacent steppe and its surrounds hold Collared Pratincole, Stone Curlew, Calandra Lark, Barred Warblers, Syrian Woodpecker, Bee-Eater and Roller.
Return to Durankulak for dinner and third night in our exceedingly comfortable fledgling base.
Day 4:
Kaliakra
After breakfast, we set off to spend the day exploring Cape Kaliakra, and its surrounds. Set in the largest surviving area of virgin steppe in Bulgaria, Kaliakra is also an archaeological monument, the site of ancient dwellings and fortresses covering more than 2500 years of human occupation.
The 70-m high cliffs make an excellent vantage point for Dolphin watching, whilst the abrupt westward turn of the coast here results in concentrations of migrating birds. The steppe, which runs up to the edge of the cliffs, is rich in plant species including Narrow-leaved Peony and three endemics - two Bulgarian and one Balkan. Kaliakra is one of the best places in Europe to see Rose-coloured Starling, though numbers vary greatly from year to year. More certain species of the steppe are Calandra Lark, Short-toed Lark, Tawny Pipit, Roller and, especially in the evening, Stone Curlew, whilst some south-eastern specialties like Red-Rumped Swallow, Pied Wheatear and Long-legged Buzzard, breed on the cliffs, alongside Eagle Owl, Rock Thrush and Alpine Swift.
In scrubby areas we should find Olive-tree Warbler and we may just see a Levant Sparrowhawk.

The afternoon will be spent at "Yailata", like Kaliakra an archaeological reserve, fronted by splendid sea-cliffs against a hinterland of steppe. The area holds Hoopoe, Pied Wheatear, Calandra Lark, Short-toed Lark, Tawny Pipit and Black-headed Bunting. Two rare mammals occur here, the Steppe Polecat and Romanian Hamster and a botanical speciality of the site is the Broad-leaved Peony. An evening visit to an impressive gorge called "Bolata" produces views of Little Crake and Pygmy Cormorant. This is also the breeding site of Eagle Owls that we hope to see after dark.
Return to Durankulak for dinner and last night at "Branta Birding Lodge".