Last sightings from Northern Bulgarian Black Sea coast




Collared Pratincole's "Kindergarten"

On September 5, 2011, two Americans (Jon Creek and Mary Lieneck) were Birdwatching with Pavel Simeonov in the wetland area of Shabla Tuzla of Bulgaria. While driving slowly along a dirt path, a single Collared Pratincole was sighted at a distance of 30 m. in a ploughed field. Closer inspection revealed a total of nine juveniles tended by a single adult, suggesting a grouping of different clutches into a "Kindergarten". Some of the chicks were so imbedded into the landscape that we initially missed them. When we flushed the group they all flew to a small raised bank of tilled soil, which provided a high level of camouflage. Of concern were that these adolescents seemed too small for migrating at this time. Will they have enough time to develop in time to migrate?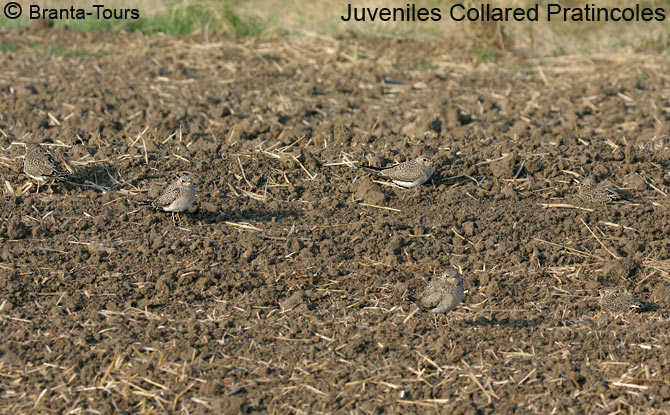 A Kindergarten of Collared Pratincoles




Pallas's Gull (Larus ichthyaetus), another rare winter visitor for Bulgarian Black Sea coast.

March 1, 2011. It was cold with a hard wind from the north. Our Team surveyed agricultural lands around Shabla and Durankulak lakes today. We observed about 6,500 White-Fronted Geese (WFG) and 620 Red-Breasted Geese (RBG) on the grain fields near Shabla Lake and about 6,200 WFG, 450 RBG and 1 adult Lesser White-fronted Goose in grain fields 4 km North of the Durankulak Lake, not far from the Romanian border. Lake Durankulak produced 850 Pochard, 80 Tufted Duck, 430 Coot, 28 Crested Grebe, 22 Black-necked Grebe, 16 Little Grebe, 52 Mallard, 35 Wigeon, 16 Smew, 1 Black-throated Diver, 3 White-tailed Eagles and we also had fabulous views of a summer plumage adult Great Black-headed Gull (Larus ichthyaetus) flying and on the ice (see photo on the Lake which was 70 percent frozen).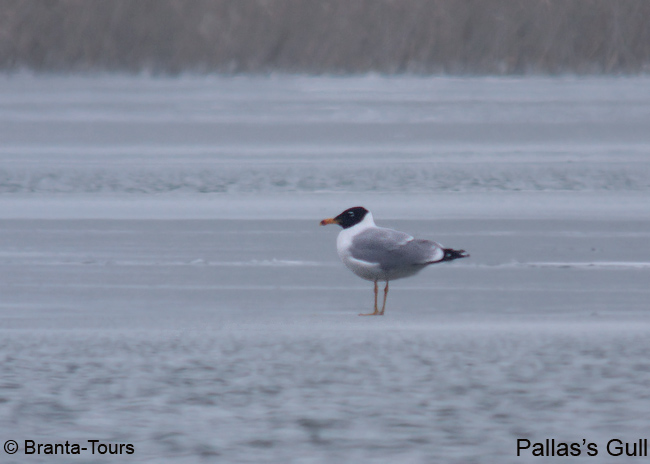 An adult Pallas´s Gull




Horned Lark (Eremophila alpestris flava), a rare winter visitor for Bulgarian Black Sea coast.

Today, 1st February 2011 at 2:15 h PM, during a lovely exploration trip, we were birding with our British friends (Chris Hughes, Howard Broughton and John Revill) around the Durankulak Lake (North-East Bulgaria) and saw two adult Shore Larks foraging in a ploughed field, just by the edge of our dirty road. The black of the cheek was not attached to the black of the lemon yellow throat and the face was also yellowish, so another option than Eremophila. a. flava (originated from north Europe) appeared unlikely.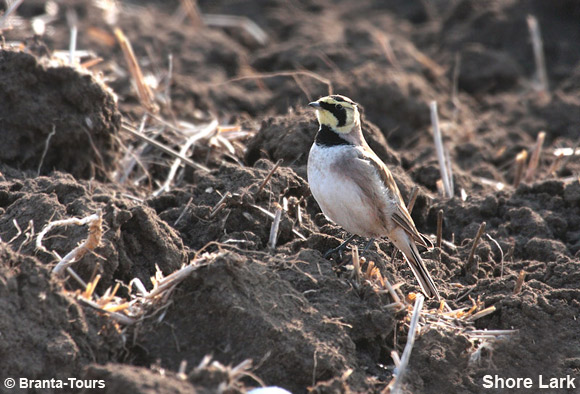 A winter plumage Shore Lark




December 22, 2010.

Lake Durankulak
Today Dec. 22, 2010, specialists from Red-breasted Goose Bulgaria-U.S. Joint Project counted 173 Red-breasted Geese and 4,800 White-fronted Geese at Durankulak Lake and its surroundings. Geese were grazing on the southern part of the lake and returned to roost at 04:45 PM. In spite of mild weather our team observed a massive arrival of geese migrating from North to the South. Other sightings from the Lake included 38 Shelducks, 3,600 Mallard, 450 Poachard, 25 Tufted Duck, 2 Ferruginous Duck, 7 Smew, 25 Teal, 58 Mute Swans, 6 Whooper Swans, 490 Coot, 9 Hen and 12 Marsh Harriers, 1 Great Grey Shrike (in front of Branta Conservation Center) and gatherings of small passerines (Finches, Buntings, Larks etc...) Photo by P. Simeonov (Branta-Tours)

February 20, 2010.

Afternoon: 6 km North of Cape Kaliakra:
Observation of a second winter Pallas´s Gull flying over the sea. Photo by P. Simeonov (Branta-Tours)

February 6, 2010.

Morning: Near Cape Kaliakra, northern Bulgarian Black Sea coast:
Nice observation of nearly full albino white morph of Common Buzzard. Photo by P. Simeonov (Branta-Tours)

December 30, 2009. The weather was mild and windy. A +10 C.

Morning: Traditional survey around Durankulak Lake produced:

1 second winter Spotted Eagle soaring over Branta Birding Lodge, 14,000 Red-breasted Geese, 85,000 White-fronted Geese, 180 Greylag Geese, 680 Mallards, 155 Teals, 48 Hen Harriers, 140Wigeons, 120 Common Buzzards, 4 Long-legged Buzzards, 2 Merlins, 1 Rough-legged Buzzard, 2 Great Grey Shrikes.

November 27, 2009.

Late Afternoon: Northern part of Durankulak Lake:
Nice observation of a partial albino white morph of Common Buzzard. Photo by P. Simeonov (Branta-Tours)

Last sightings from Shabla-Durankulak wetlands

Today, November 2, 2009. The weather was cold and windy. A -1 C.

Morning: Traditional survey around Durankulak Lake produced:

43 Little Grebes, 2 Crested Grebes, 62 Pygmy Cormorants, 82 Cormorants, 1 second winter White Pelican, 130 Mallards, 85 Teals, 67 Hen Harriers, huge numbers of Mediterranean and Yellow-legged Gulls, but no more Ferruginous Ducks.

Afternoon: Observations on the steppe near Kaliakra: One flock of 123 Golden Plovers near the village of Balgarevo.




Today March 18, 2006 was a lucky day. A -2 C -4 C wet and windy week was followed by the first very quiet and sunny journey. A good variety of birds were seen during the day including the exceedingly rare for Bulgaria Demoiselle Crane. Sightings from northern Bulgarian Black Sea coast wetlands complex Shabla-Durankulak included: 7 Black-necked grebes, 5 Crested Grebes, 3 Dalmatian Pelicans, 55 Cormorants, 4 Pygmy Cormorants, 9 Grey herons, 1 Bittern, 1 Black Stork, 32 Mallards, 4 Gadwalls, 15 Pintails, 22 Golden Plovers, 35 Shelducks, 12 Ferruginous Ducks, female Kestrel, 8 March harriers, 3 Hen harriers, 70 Grey Wagtails, 23 Oystercatchers, 43 Wigeons, 18 Teals, 35 Garganey, 32 Mute and 5 Whooper Swans, 2 Sparrowhawks, 1 Goshawk, 7 Buzzards, 2 Long-Legged Buzzards, 1 Peregrine, 2 Water Rails (heard), 180 Coots, 3 Snipes, 5 Common sandpipers, 22 Ruffs, 28 Yellow-Legged Gulls, first 6 Bee-eaters, many Calandra and Sky Larks, many passerines such like Reed Bunting, Blackbird, Corn Buntings, Chaffinch, Hawfinch and thousand of Starlings. Magpies, Jackdaws and Hooded Crows also have been on the agenda.

Shabla Touzla lagoon (see home page photo) : Branta-Tours permanent wooden hide produced views of 5 Ruddy Shelducks, 28 Ferruginous Ducks and 3 Little Crakes, just a few metres from the hide (see pictures taken by Pavel Simeonov in the morning), 12 Shovelers, 1 Jack Snipe, 5-6 Stonechats on adjacent scrubby areas, 8 Pochards, 8 Red-breasted and 2 White-fronted Geese, 15 Lapwing and several singing Reed Buntings. Just before leaving 12 Demoiselle Cranes were seen in flight overhead. They landed somewhere further inland. By the late 1930s this crane species had become extinct in Bulgaria and Romania due to the spreading cultivation of the steppes for agriculture. Not easy to distinct in flight by the Crane but we were lucky to here it's higher-pitched voice. Another particular species encountered today was the Moustached Warbler. At least 7males were singing from reed-beds nearby. They showed no anxiety at our wading through their early spring "territories". The species now apparently winters in the Burgas area (pers. comment of John Roberts). All sightings of the species from Shabla-Durankulak region are reported only during the breeding season.

Shabla Tuzla additional sightings:

Today, March 21, we added several bird species to our early spring list: a pair of Little Grebe, 1 Great White Egret, 1 White Stork, 1 Curlew, several Redshanks, Black-headed Gulls and Marsh harriers, 4 Tufted Ducks, 6 Pochards, 2 Greylag Geese, 1 Moorhen. The tall hedges and windbreaks in the vicinity of the lake and its surroundings produced 1 Green and 2 Syrian Woodpeckers, 2 - 3 Chiffchaffs, 1 Wren, Several Song Thrushes and two young Rooks.

Branta-Tours permanent wooden hide produced better views on Little Crake and other additional species




Last sightings from Srebarna Lake

Sunday, January 07, 2007 Today we spotted over 40 Dalmatian Pelicans some distance away out in the middle of the lake. With temperatures of 10 degrees in the shade the ice is melting again confusing the wildlife even more! The forecast is for another very mild week with lots of sunshine, it will be interesting to monitor what the birds will decide to do.....



Observation of an adult Gannet (Morus bassanus) and Pomarine Skua (Stercorarius pomarinus)
along the Black Sea coast of Bulgaria.

Today, 18th June 2007 at 14:15 hours, just before the lovely exploration of Branta Birding Lodge near Durankulak, I was visiting the beach of Shabla with my wife and as we stood up I saw an adult Gannet flying from North to South along the edge of the sea. It is a species I see on 350 days out of every 365 at home, where I am an avid watcher and counter of seabirds. This year alone I have seen probably 30000 individual Gannets !

It approached head on and flew directly over my head. It flew to within 20 metres of us and at a height of only 10 metres. It was a very large bird with a long narrow body and long pointed wings. The plumage was completely white except for black wing tips formed by black primaries and primary coverts. The head and neck were washed with creamy yellow and the bill was silver grey, long and pointed. There was a narrow black mark around the base of the bill. The tail was long and wedge-shaped.

Flight was level and strong with steady shallow wingbeats interspersed with short glides. We watched it for about 40 seconds as it disappeared to the south.

It occurred after a night of stormy northerly winds and heavy rain.

I knew that Gannets occasionally occurred in the eastern Mediterranean but was unsure of the species' status on the Black Sea - that was why I mentioned it to Branta-Tours specialists.

Incidentally, after I spoke to Pavel Simeonov I went to Durankulak Beach where I saw a pale phase Pomarine Skua (Stercorarius pomarinus) flying north.

Stanley M. Christophers,
Rachels way, St Columb Major, Cornwall, UK,
birdman.stan@virgin.net





Last sightings from Durankulak

Today, November 30, 2007 A +2 C +4 C Sightings from northern Bulgarian Black Sea coast, wetlands complex Durankulak Lake and surrounding areas included: 1 Great Grey Shrike, 5 Calandra and 3 Sky Larks, 35 Reed Buntings, 7 Corn Buntings, 56 Yellowhammer + 1 female Pine Bunting, 3 Syrian Woodpeckers, 1 Great Spotted Woodpecker, 2 Great Tits, 26 Siskins, 18 Tree Sparrows, 56 Rooks, 12 Black-necked grebes, 3 Crested Grebes, 23 Cormorants, 3500 White-fronted Geese, 3 Red-breasted Geese, 1 White Stork, 14 Mallards, 23 Teals, 3 Mute and 9 Whooper Swans, 45 Yellow-Legged Gulls, 5 Black-headed Gulls, 3 Little Gulls, 230 Coots, 1 Red-footed Falcon (male), 1 Peregrine, 1 Sparrowhawk, 1 Goshawk, 1 Merlin (male), 1 Kestrel, 1 White-tailed Eagle (imm), 5 March harriers, 9 Hen harriers, 5 Buzzards, 1 Long-Legged Buzzard, several Rough-legged Buzzards and a juvenile Steppe Buzzard that is quite late for this migrating species coming from Russia. ... Just enjoy the photographs bellow:






Christmas sightings from Durankulak

On 11:00hrs 23rd December 2007 I went for a walk around "Branta Birding Lodge" near Durankulak Lake. Moreover, I took my new equipment (Canon EOS 30D, Zoom Canon 100-400 AF) to test it. Sunny and calm but cold (- 2 C). Suddenly I see a Great Grey Shrike diving out of a tree and rising at once with a prey in the mouth, then to hide in a thorny shrub. I approached slowly but the bird left leaving its trophy (Lesser white-toothed Shrew) pinned on a branch 1m above the ground. I decided to take advantage of the opportunity and positioned with my Mitsubishi 4WD at a distance of approximately 10 meters, sun behind me. I had to wait 45 minutes, then the bird arrived, to satisfy its hunger (see bellow).

The juvenile bird shown on the following pictures belongs to the eastern sub-species Lanius excubitor homeyeri - the so-called Taiga Great Grey Shrike.

Differentiation adult homeyeri: Upperparts paler grey than in nominate; forehead whitish, white supercilium generally conspicuous; uppertail-coverts and often also rump whitish not grey; tail pattern different with more white, even at base of central rectrices (c. 2cm). Wings also with more white and almost always with double wing-bar, forming one large white patch across primaries and secondaries. Rare individuals from contact zones with excubitor show only one white primary patch.



Pavel Simeonov


Last sightings from Durankulak

Today, November 25, 2008. The weather was warm, sunny and windy. A +12 C. A day-trip has been organised by Branta-Tours for two Greek photographers.

The wildlife highlight of the trip was a chance encounter an adult Saker Falcon (see photo bellow).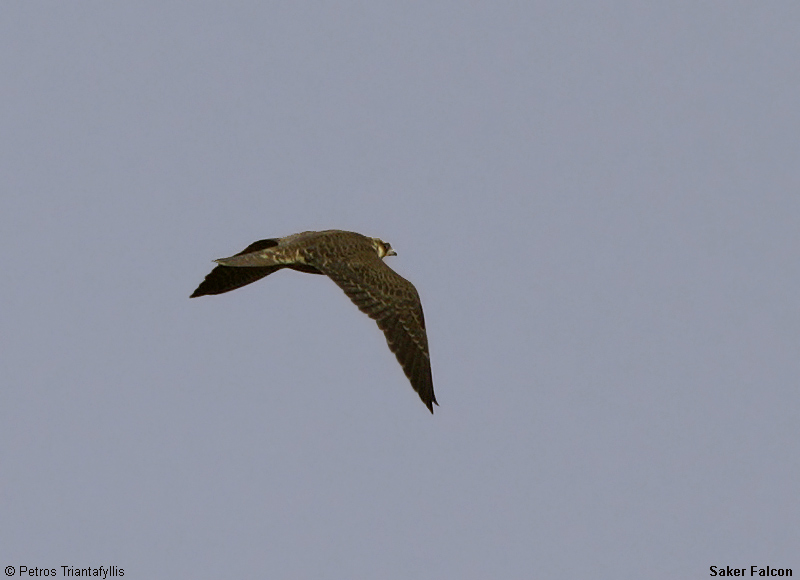 Other sightings from Durankulak Lake and surrounding areas included:
8 Crested Grebes, 10 Black-necked Grebes, 5 Little grebes, first 4 Red-breasted Geese, 120 White-fronted Geese, 1 Red-throated Diver (in flight), 70 Pygmy Cormorants, Several flocks of Great Cormorants, 2 Grey herons, 7 Hen Harriers (including 2 males), 10 Marsh Harriers, 12 Common Buzzards, 1 male Merlin, 1 Rough-legged Buzzard, 1 Long-legged Buzzard, 2 Pheasants (males), 3 Water Rails, 2 Goshawks, 3 Sparrowhawks, 3 Smew, 160 Teals, 62 Mallards, 8 Red-crested Pochards, 3 Pochards, 4 Tuffted Ducks, 28 Wigeons, 78 Shelducks, many Ruffs, 7 Snipes, Many Yellow-legged Gulls (michahellis), several Collared Doves, 20 Calandra Larks, many Skylarks, many Corn Buntings and Reed Buntings, good lot of Finches, Greenfinches, Goldfinches and Linnets, several Medow Pipits and Rock Pipits, several Stonechats, 5 Bearded Tits, several Great and Blue Tits, 1 late Red-backed Shrike, many Magpies, Jays and Starlings, Tree Sparrows.





Rare record for Long-tailed Duck, North Black Sea coast of Bulgaria

Today, January 31, 2009. The weather was cold, cloudy and windy. A + 2 C. During a birding trip along the North Bulgarian Black Sea coast, a female Long-tailed Duck (Clangula hyemalis) has been observed just 200 meters southward of Cape Kaliakra.

It was noted as an adult female, with brown upper parts, squarish shaped head with distinct brown cheek patch, bordered white, with a brown cap. The bill was stubby shaped, coloured grey.

Dan Powell, famous wildlife artist, is familiar with this species, as it is a regular winter visitor to the UK. He had not realised the significance of this record for Bulgaria!

The day was crowned with spectacular views of a Saker falcon as it caused havoc with the roosting birds of prey near to the Branta Birding Lodge, Lake Durankulak, a fine hostel with genial and great hospitality.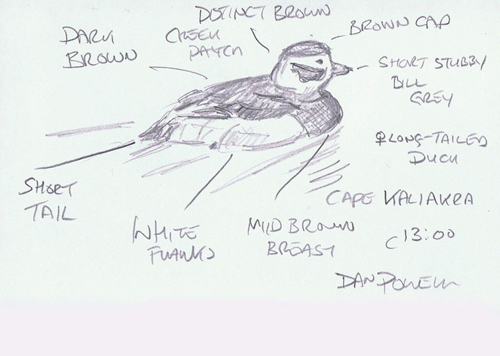 Dan & Rosie Powell - artists, UK

Dobromir Domuschiev - Spatia Wildlife
Today, February 24, 2009 the bird was still there.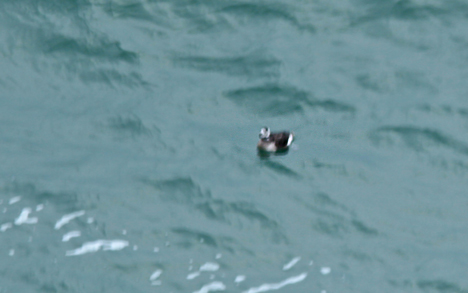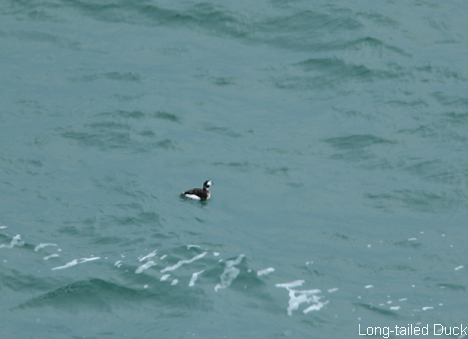 Photos: Balazs Szigeti 27 October 2009, North Black Sea coast of Bulgaria

Today, October 27, 2009 - First arrival of Red-breasted Geese recorded in Durankulak. The weather is still mild in Bulgaria, but the forecast is for a very cold week with lots of wind. During our traditional survey we recorded the following species:

220 White Pelicans, 58 Cormorants, 6 Grey Herons, 2 Purple Herons, 2 Great Egrets, 2 Sparrowhawks, 9 Common Buzzards, 12 Marsh Harriers, 29 Hen Harriers (including 8 males), 1 Merlin, 270 Coots, 1 Curlew, 3 Snipes, 70 Yellow-legged Gulls, 16 Cranes migrating south along the coast, 360 Mediterranean Gulls, 1 Barn Owl (hunting around the Birding Lodge), 2 Syrian Woodpeckers, 2 Great Spotted Woodpeckers, 120 White Wagtails, 14 Sky Larks, 24 Calandra Larks, 2 Red-throated Pipits, 5 Willow Warblers, 1 Moustached Warbler, 1 Red-breasted Flycatcher, 7 Black Redstarts, 6 Stonechats, 5 Winchats, 5 Robins, 1 Wren, 7 Black Birds, 15 Song Thrushes, 12 Mistle Thrushes, 58 Corn Buntings, 5 Yellowhammers, 53 Siskins, 180 Bramblings, 75 Chafinches, 15 Greenfinches, 18 Howse Sparrows and 12 Three Sparrows.


The day was crowned with the first arrival of 16 Red-breasted and 22 White-fronted Geese flying over Branta Birding Lodge just before dark (see photo bellow).


30 October 2009, Lake Durankulak, North Black Sea coast of Bulgaria
Today, October 30, 2009 - Spectacular arrival of over 3600 Ferruginous Ducks in the lake.
31 October 2009 - The day was crowned with another nice and uncommon highlight reported by Viktor Vasilev - a male Snow Bunting (see photo bellow). The bird has been observed at 2.30 PM not far from Shabla Lake.