Bulgaria:
Balkan Wildlife Bonanza -
Featuring Spring Birdlife and Brown Bears

April 5 to 14



Group Size: 8


Starting Point: Varna


Based: Durankulak

2 nights...Pomorie 2 nights... Madzharovo 2 nights...Devin 2 nights...Sofia 1 night


Walking: Easy



* Promotional statement:
We offer a 5 percent discount to anyone who books a place (and sends deposit) by 31 December.


Description: This newly designed spring event contains one of the most attractive and extensive wildlife packages we have ever offered. Led by Pavel Simeonov, your dedicated specialist in Bulgaria, eventful experiences are guaranteed throughout.

Birding interests are catered for at every turn, from wetland destinations along the Black Sea coast, through steppe habitats and ancient forests, to steep-sided gorges in the Eastern Rhodope Mountains. Bird list includes White Pelican, Pygmy Cormorant, Ruddy Shelduck, Ferruginous Duck, Chukar, 20 raptor species, 5 Wheatear species, Roller, Bee-eater, Citrine Wagtail, Wallcreeper, Rock Nuthatch, Sombre Tit, Semi-collared Flycatcher and Nutcracker - by way of a small sample (over 200 species expected).

During this trip Branta-Tours is according high importance to finding mammals, Brown Bear (viewed from a hide at a private reserve), Balkan Chamois, Jackal, Steppe and Marbled Polecats being top of this tour list, with European Souslik and three species of Dolphins in support. Reptiles and amphibians also feature, including Stripe-necked Terrapin, European Glass Lizard and Green Toads.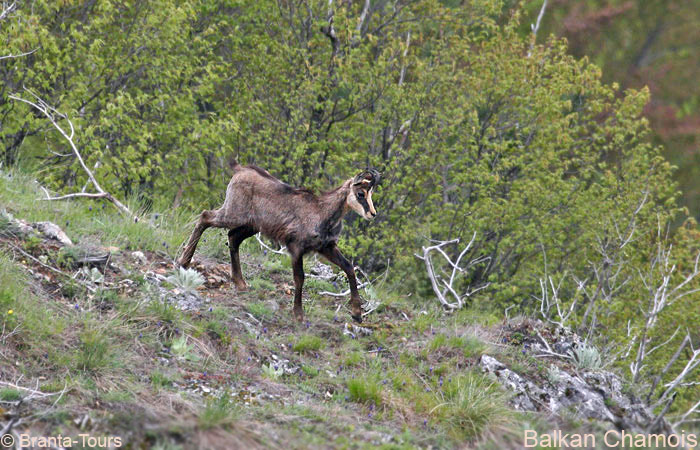 The tour opens with visits to Lakes Shabla and Durankulak in the north, plus steppe habitats at Kaliakra and Yailata. Ancient forest on the Kamchia River is visited en route to our next base near Bourgas, where Lake Atanosovsko - Bulgaria's top birding site - is explored. In the Eastern Rhodopes we are based near a vulture feeding station and, during two nights at Devin, we explore the beautiful Trigrad Gorge and haunts of Brown Bears. A final night is spent in the heart of the Vitosha mountain just south of Sofia, the Bulgarian capital.

Itinerary:
Day 1 : Morning Flight to Varna to be met by your knowledgeable guide, then make the two-hours journey by minibus to our base overlooking Durankulak Lake and Black Sea, just 5 miles from Romania, where we stay for the next three nights. Dinner and first night at Branta Birding Lodge.
Days 2 - 9 : The brackish wetlands of Lakes Durankulak and Shabla prime the tour with a tremendous show of birds including Red-necked Grebe, Pygmy Cormorant, Purple Heron, Bittern, Little Bittern, Ruddy Shelduck and Ferruginous Duck. Among local breeding raptors Long-legged Buzzard, Levant Sparrowhawk and Red-footed Falcon are notable.
Cape Kaliakra and Yailata serve up Stone Curlew, Calandra Lark, Barred Warbler, Pied, Isabelline and Finsch's Wheatears, Roller and Tawny Pipit. Mediterranean Shearwater and cetaceans (Harbour Porpoise and dolphins) are often seen from cliff-tops. European Souslik, Romanian Hamster and Marbled Polecat are among local mammals of interest.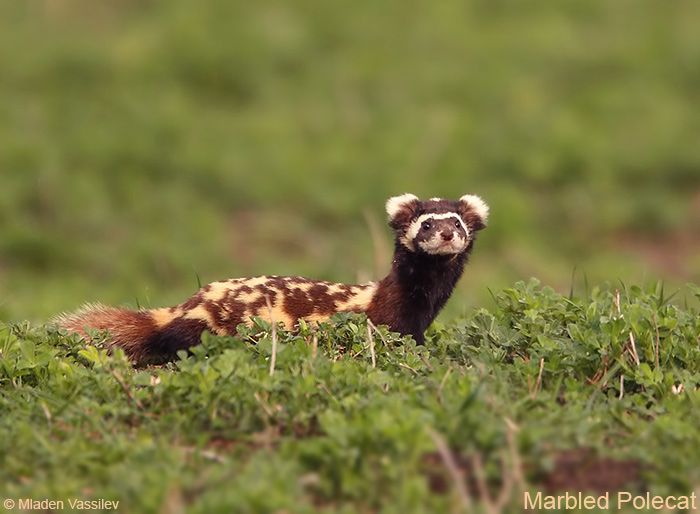 At the forests of Kamchia Lesser Spotted Eagle, Grey-headed, Black and Middle Spotted Woodpeckers and Semi-collared Flycatcher are of primary interest; Sombre Tit is seen on the approach to Pomorie.

The outstanding wetlands of Lake Atanasovsko present us with White Pelican, Squacco Heron, Glossy Ibis, Collared Pratincole, Kentish Plover, Broad-billed and Marsh Sandpipers, plus numerous other waders, also Bearded and Penduline Tits.
By way of cultural diversion we shall visit the ancient town of Nessebar.

In the Eastern Rhodopes raptors feature prominently: Black, Griffon and Egyptian Vultures, Imperial, Booted and Short-toed Eagles and (with luck) Saker Falcon. Diverse other birds include Black Stork, Woodchat Shrike, Rock Nuthatch, Blue Rock Thrush, Alpine and Pallid Swifts.
The Western Rhodopes present us with major tour highlights, including a Brown Bear watch, dawn excursion to view lekking Capercaillie, and visit to a gorge where the exquisite Wallcreeper is seen.

Day 10 : From our final high-level base near Sofia we look for Nutcracker and Alpine Accentor, before taking early afternoon return flight.

* Detailed programme on demand