Spring Migration Tour

with excursions to Romania and Greece

Waders, Pelicans, Flamingos, Wallcreeper, Red-breasted and Semi-collared Flycatchers, Sombre Tit, White-backed Woodpecker, Orphean, Sub-alpine, and Eastern Bonelli's Warblers, Red-throated Pipit, Rock Nuthatch, Rock Sparrow, Blue Rock Thrush, Cirl and Rock Buntings, 23 Raptors including Vultures, Levant Sparrowhawk, Red-footed Falcon, and Eastern Imperial Eagle...

11 days


Dates:
late April/early May



Starting point:: Varna * Promotional statement:
We offer a 5 percent discount to anyone who books a place (and sends deposit) by 31 December.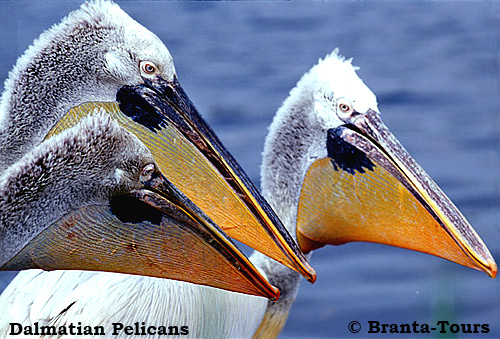 Itinerary
Day 1 : Varna - Durankulak
Day 2 : Durankulak and Shabla Lakes
Day 3 : Durankulak - Romania
Day 4 : Kaliakra - Burgas (via Kamchia and Cap Emine)
Day 5 : SPomorie Saltpans - Burgas Wetlands
Day 6 : Burgas - Eastern Rhodopes (via Sakar Mountain)
Day 7 : Madjarovo - Studen Kladenetz Dam - Dolna Kula
Day 8 : Madjarovo - Western Rhodopes - Devin
Day 9 : Devin - Trigrad - Melnik
Day 10: Kresna Gorge - Rojen Monastery (an alternative trip to Greece)
Day 11: Vitosha - Sofia Airport

Day 1 Varna - Durankulak
Flight out to Varna to be met by your guide Pavel Simeonov, then make the 50 miles to the village of Durankulak, on the Romanian border. Heading north we pose at Cape Kaliakra, our first major destination. Set in the largest surviving area of virgin steppe in Bulgaria, Kaliakra is also an archaeological monument, the site of ancient dwellings and fortresses covering more than 2500 years of human occupation. The 70-m high cliffs make an excellent vantage point for Dolphin watching, whilst the abrupt westward turn of the coast here results in concentrations of migrating birds. The steppe, which runs up to the edge of the cliffs, is rich in plant species including Narrow-leaved Peony and three endemics. Kaliakra is the only breeding site in Europe for the exceedingly rare Finsch's Wheatear. More certain species of the steppe are Calandra Lark, Short-toed Lark, Tawny Pipit, Roller and, especially in the evening, Stone Curlew, whilst some south-eastern specialties like Red-Rumped Swallow, Long-legged Buzzard, Pied and Isabelline Wheatears breed on the cliffs, alongside the desmaresti sub-species of Shag, also Eagle Owl, Rufous-tailed Rock Thrush and Alpine Swift. In scrubby areas we should find Barred Warbler and we may just see a Levant Sparrowhawk. Branta Birding Lodge overlooking Durankulak Lake and Black Sea, is our exceedingly comfortable base for the next three nights.
Day 2 Durankulak - Shabla - Yaylata
After breakfast, we explore Lake Durankulak, a ''Ramsar'' site and ''location of outstanding natural beauty'' close to the Rumanian border and fringing on the Black Sea itself. Durankulak is famous for its most important wintering location for geese and ducks including the globally threatened Red-breasted Goose. At this season we look for Red-necked Grebe, Whiskered and Black Terns, Red-crested Pochard, Bearded Tit, Marsh, Savi's and Paddyfield Warblers. The last one may not have arrived yet. The brackish waters and huge reed beds hold also Moustached Warbler, Pygmy Cormorant, Ruddy Shelduck, Bittern and Little Bittern, Purple Heron, Ferruginous Duck and much else. On fields near the lake we should see the Balkan sub-species of the Yellow Wagtail, the beautiful black-headed feldegg race, while Barred and Marsh Warblers often sing from patches of scrub. Tall hedges and windbreaks in the vicinity of the lake hold good numbers of Red-footed Falcons and Lesser Grey Shrikes. The adjacent steppe and its surrounds hold Collared Pratincole, Stone Curlew, Calandra Lark, Barred Warbler, Syrian Woodpecker, Bee-Eater and Roller. After lunch, drive south (6 miles) to visit Shabla Lake and ''Yailata'', like Kaliakra an archaeological reserve, fronted by splendid sea-cliffs against a hinterland of steppe. The area holds Hobby, Hoopoe, Pied Wheatear, Calandra and Short-toed Larks, Tawny Pipit, Ortolan and Black-headed Bunting, Barred and Olivaceous Warblers. Two rare mammals occur here, the Marbled and Steppe Polecats and a botanical speciality of the site is the Broad-leaved Peony. Likely bird sightings en route include Balkan Wagtail and Syrian Woodpecker. We will spend the late afternoon at Shabla Touzla - a small, high salinity lake, famous for the curative properties of its mud. Here we can see Little Tern, Red-footed Falcon, Little Crake, Moustached and Barred Warblers, Lesser Whitethroat, Reed Bunting, Broad-billed and Marsh Sandpipers and Little-ringed Plover. Return to Durankulak for dinner and second night at Branta Birding Lodge.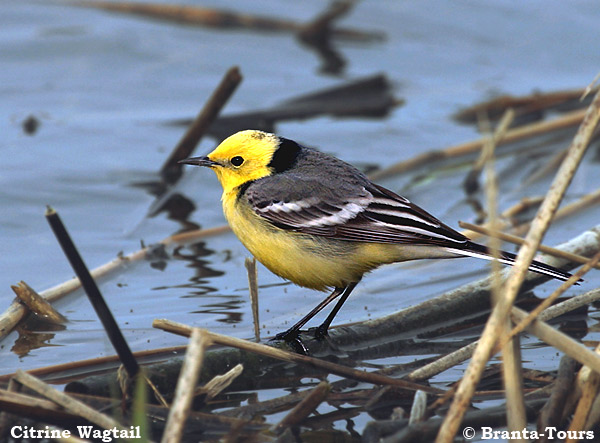 Day 3 Durankulak - Romania
After breakfast we set off to spend the day exploring the Romanian section of Coastal Dobrudja region. We visit the most exciting birding locations along the Romanian Black Sea coast, including the southern part of the Danube Delta. On our trip we will catch views of the famous passage of migratory birds along the Via Pontica flyway, when countless thousands of storks, pelicans, waders and passerines including several very interesting sub-species of Wagtail, among which the beautiful Black-headed Feldegg Race and the delightful Citrine Wagtail, whilst many notable Raptors like Lesser Spotted, Short-toed and Booted Eagles, Honey and Steppe Buzzards, four species of Harriers, Hobby and Red-footed Falcons, Levant Sparrowhawks and many others ensure a day to day action-filled experience. The brackish lagoons Sinoe, Zmeica and Istria will be the major hot spots to be visited where many Eastern specialities such as White Pelicans, Pygmy Cormorants, Glossy Ibis, Squacco and other herons, White-tailed Eagle, Bittern and Little Bittern, Ferruginous Ducks and Red-crested Pochard should be seen. Waders feature Marsh, Curlew, Broad-billed and, with luck, Terek Sandpipers, Temminck's Stint, Kentish Plover, Red-necked Phalarope, Black-winged Stilt, Collared Pratincole, Gull-billed, Caspian, Little, Sandwich and the three species of Marsh Terns, Mediterranean, Yellow-legged, Pontic, Little and Slender-billed Gulls can be spotted. The areas also hold Red-Rumped Swallow, Lesser Grey Shrike, Hoopoe, Roller, Bee-eater, Pied and Isabelline Wheatears, Calandra and Short-toed Larks and Tawny Pipit. In addition to species already seen we may add the exceedingly beautiful Red-throated Pipit. Packed lunch, dinner and third night at Branta Birding Lodge.
Day 4 Durankulak - Kaliakra - Burgas
After breakfast, transfer (120 miles) to the Southern Black Sea coast. For the next two nights our base is Pomorie, a small port just a few miles to the north of Burgas. Heading south we pause at Cape Kaliakra to see the usual show of migrating raptors and, with luck, Yelkouan Shearwaters or Arctic Skua should be spotted. An hour will be dedicated to exploring the Kamchiya Reserve with its remarkable alluvial or Longoz forest, one of the most northerly of its kind in Europe. The reserve complex, totalling about 1500 ha, includes dunes, beach, estuary and small freshwater pools. This is an area of considerable botanical interest. Breeding birds include Semi-collared Flycatcher, Short-toed Treecreeper, Black, Grey-headed and Middle Spotted Woodpeckers, Goshawk, Lesser Spotted Eagle, Long-tailed Tit, Wood and Icterine Warblers. Continuing south the route ascends through the wooded hills of Eastern Balkan mountain range, bringing us to our next stop at Cape Emine. Reaching cliff-top scrub above the sea we look for cetaceans. Local birds include Sombre Tit, Rock Bunting, Wood Lark, Tawny Pipit, Barred, Olive-tree and Olivaceous Warblers, Masked and Woodchat Shrikes. The last 4 species may not be encountered but there is a possibility that we may see some early arrivals. An hour will be spent in the ancient town of Nessebar featuring a great deal of traditional architecture. Birds on the scene include the Yelkouan Shearwater, Yellow-legged Gull and its sub-species michahellis. Dinner and first of two nights at "BYALATA KASHTA" hotel in POMORIE.
Day 5 Burgas Wetlands
Today's exploration of nearby Lake Atanosovsko and surrounding saltpans promises a phenomenal range and quantity of birds - far too numerous to list! This is Bulgaria's premier bird location - in fact one of Europe's principal 'hot spots' and one of the country's ten "Ramsar" sites. The 1690 ha. complex includes extensive saltpans, freshwater pools, marshes and areas of scrub and semi-steppe. The reserve's position on the east European Via Pontica flyway attracts a great variety of migrants in spring and autumn. More than 300 bird species have been recorded here. We will be able to enjoy the spectacle of the lake's breeding birds, including some hundreds of Avocets, Black-winged Stilt, Collared Pratincole (Black-winged have been seen here too!), Kentish Plover, Gull-billed Tern, Mediterranean Gull, Sandwich and Little Terns, Marsh Harrier, Bearded and Penduline Tits. Caspian Tern, Slender-billed Gull and Squacco Heron are also seen at this season, and we may turn up Marsh, Broad-billed and Terek Sandpipers. Cetti's Warbler and Little Bittern breed in the reedbeds, and Black-headed Bunting, Balkan Wagtail and Red-backed Shrike are numerous on fields surrounding the lake. South of Burgas we visit the reed-fringed Lakes Vaya and Poda with flanking water meadows and woodlands. The reedbeds of Poda host a mixed breeding colony of Spoonbill, Purple, Squacco and Night Herons, Little Egret, Glossy Ibis and Pygmy Cormorant. Further along we reach Alepou marsh wetland and look for White-tailed Eagle, Honey Buzzard and foraging Little Egrets, Glossy Ibis and Squacco herons. In the late afternoon we visit the Ropotamo river wetland complex and Strandja Natural Park , where we look for White-backed Woodpecker, migrating Lesser Spotted Eagles, Eastern Semi-collared Flycatcher and Woodlark. Dinner and second night at ''BYALATA KASHTA'' hotel in POMORIE.