First Confirmed Arrival of Red-breasted Geese for 2011/2012 winter season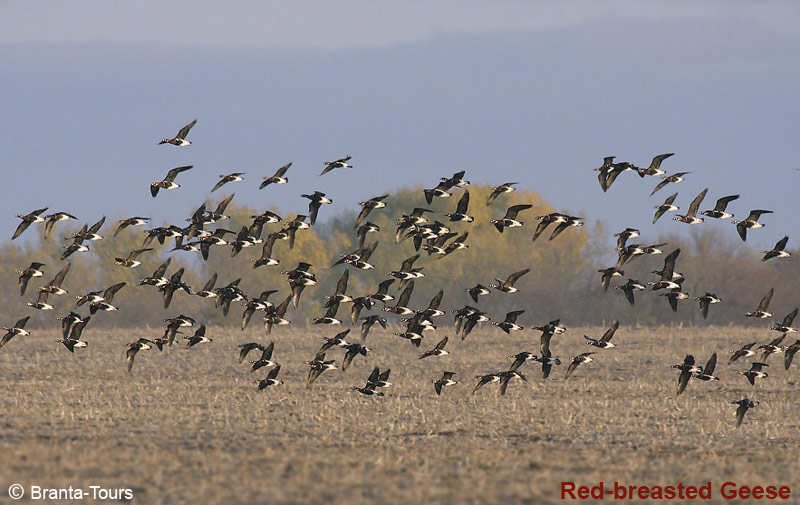 Today, November 8, 2011, I observed the first arrival of Red-breasted Geese (RBG) in Durankulak Lake. A flock of 420 RBG arrived at 8:55 AM from WNW direction in two smaller flocks of 300 and 120 birds each and eventually forming one larger flock. After a traditional flight over the lake they dispersed in several small flocks flying around for over half an hour and then landing flock by flock in the open water in the middle of Lake Durankulak. Within 15 minutes a small flock of 23 White Fronted Geese (WFG) arrived at the lake. About 150 widgeons were also observed flying very high westward towards the farmlands inland. The RBG and WFG geese stayed for 3-4 hours in the lake and then flew inland most certainly to forage in the already green cereal fields.

At about 3:45 PM I observed the same flock of RBG flying over the Lake Durankulak and landing in a harvested maize (corn) field. While there were no visible corn cobs, it is normal for there to be corn remaining immediately following harvest. It appears that the RBG prefer the corn over the wheat. We also observed 23 WFG (probably same birds that were observed earlier in the day) which flew towards their roost (Lake) at 4:25 pm. The RBG, however, remained in the field until sunset and will most likely fly to their Lake roosting site later. The excellent evening light was perfect for photographing the geese. Today the weather was mild and sunny with a light breeze from the East. The forecast is for very cold and windy weather coming from north-east until next Saturday which is likely to push more geese to this region in the next few days.
Pavel SIMEONOV info@branta-tours.com