First documented record of Western Tundra Bean Goose

(Anser serrirostris rossicus) from Bulgaria.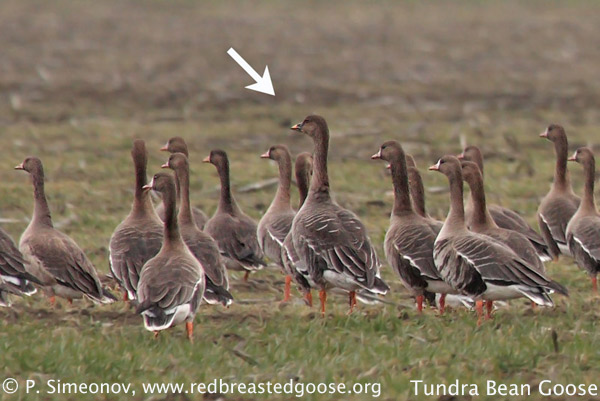 During a routine goose survey on Thursday, 17 February 2011, performed near Lake Durankulak on the Northern Bulgarian Black Sea Coast, I made a short stop on the small road going to the Camping site located about 900 m North-West of Lake Durankulak and 2 km North from the Branta Birding Lodge.
I immediately sighted a group of about 1400 Greater White-fronted Geese (Anser albifrons) in a cereal field foraging together with about 450 Red-breasted Geese (Branta ruficollis). The weather was mild, calm and cloudy (c. +8 C).
Suddenly I observed a goose that differed from the Greater White-fronted Geese, which I later photogaphed. The observation was made at 10:11 AM by means of Telescope "Swarovski" ATS 80 HD 20x60 and the bird was photographed using a camera Canon EOS 40D and lens Canon 100-400 EF, at a distance of about 120 meters.

I took the time to observe the bird for about 20 minutes. It was larger than the Greater White-fronted Goose but not as large as the Taiga Bean Goose (A f. fabalis). The neck was larger than on Greater Whitefronts (Anser albifrons) but seemed shorter compared to the rather longer neck of the fabalis. The wings and the back contrasted with the dark brown pattern of the neck and the head. Its bill was black, heavy and broad based and appeared shorter compared to the longer and slender bill of the Taiga forms. The culmen was stubbier and straight, between the nostril and the tip, not concave, marked with a smaller orange-colored sub-terminal transverse band from the lower nostril forward to the base of the nail, which is closer to that of a Pink-footed Goose (A. brachyrhynchus). The back was dark and the legs were orange, while brachyrhynchus has a pale grey back and pink legs. Finally, the bird did not look small as would be expected of a Pink-footed Goose.

I have no doubt that I observed an adult Bean Goose of the Western tundra-race rossicus, which, according to the recent taxonomic studies, might be considered as a Western Tundra Bean Goose (Anser serrirostris rossicus) breeding in the Tundra and wintering in Europe.
Thomas Heinicke (www.geese.org), Johan Mooij (www.bskw.de) and Tanyo Michev confirmed the observation.
Unfortunately a few minutes later an attack from a domestic dog made the geese flee away.
Pavel SIMEONOV

Co-leader of the Red-breasted Goose Bulgaria-U.S. project initiative

Branta-Tours
info@branta-tours.com